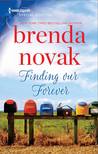 Finding Our Forever
by
Brenda Novak
My rating:
5 of 5 stars
Cora is adopted and loves her parents; but the search for her birth mother brings her to New Horizons Boys Ranch where she becomes their Art teacher. At the same time she finds out about her birth mother she falls in love with Eli who is one of the boys adopted on the ranch by Aiyana.
Cora fights herself between wanting to tell Aiyana she is her daughter and wanting to keep it a secret, especially when she falls in love with Eli. Telling the truth might hurt all the people she loves and make things worst. She is also scared her birth mother will hate her since she does not know the details of why she was given up for adoption.
But Aiyana is an all loving woman who might just surprise her. This story is such a heart wrenching and beautifully romantic one that will restore your faith in love and compassion.
View all my reviews